Haidee
Bow chicka bow wow



Joined: 29 Jul 2003
Posts: 647
Location: ..where am I again?...
Posted: Sat May 13, 2006 12:52 am

Post subject: Esia Trails!

---

That's right, due to popular demand (ie: Acosae and Tygerwulf...just Acosae really) I've decided to post my map of Esia Trails so you all don't get lost on your way.



Quote:
KittCandi (11:46:32 PM): i mean some people might be like, "But Haidee, why do we have to cross the river 8 times? Wouldn't it be quicker if we went around it?" and then I'd be like "Hey, who makes the maps?!"
KittCandi (11:46:35 PM): that'd shut them up
IQIS1 (11:47:17 PM): Yeah really. If they wanna get bitten by aisob, then they can find their own way to Esia.
KittCandi (11:48:35 PM): seriously
KittCandi (11:48:47 PM): don't expect me to suck the poison out of THEM when they DO get bit
IQIS1 (11:49:08 PM): Bastids.



So don't question my trail!

http://haidee.haelrahv.net/Esia.jpg
_________________
>l in corset
Inside an intricately beaded twilight black suede corset with hot pink lacings you see a buttery nipple, a buttery nipple, a steaming pile of gamojab poop, a speckled red crab, a chocolate chip brownie, a map of Haelrahv, a huge blonde hair ball, a severed Haidee head, and your boobs.
Brokyn
LLAMA SECHS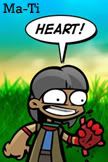 Joined: 19 Oct 2002
Posts: 3648
Location: Northern Georgia
Posted: Sat May 13, 2006 1:14 am

Post subject:

---

Seriously, that was my favourite in-game conversation in a long time. Thanks go to Tyger for starting it and to Haidee for jumping in!

--William
_________________



Haelrahv Wiki!
++Brown Nosing Points